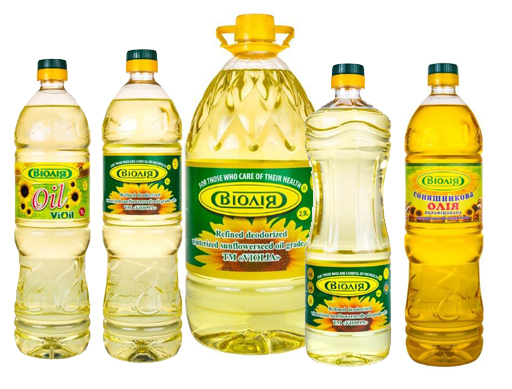 Bottled vegetable oil 
Perfectly packaged 100% sunflower oil that meets all world quality standards. This is the most purified natural product without addition of preservatives and dyes that contain natural vitamin E.
The quality of our products meets all the quality requirements of the European Union, CIS, China, as well as all world food quality standards. All enterprises of ViOil Industrial Group have passed ISO 9001 and ISO 2200 certification.
Refined oil undergoes neutralization and hydration, deodorization, freezing and bleaching. As a result, residues of pesticides, heavy metals, other harmful impurities and free fatty acids, which cause smoke when frying in a pan, are eliminated from the product.
The freezing procedure is the removal of natural waxes that cover sunflower seeds. The refined product is impersonal - odorless, tasteless and colorless. It can be stored for a long time, and when frying it does not "shoot" and does not foam.
Refined, deodorized sunflower oil, due to the absence of cholesterol, is considered the most dietary product and is perfect for baby food, because all chemical solvent residues disappear after complete vacuum cleaning.
Advantages:
- excellent for cooking dishes with heat treatment.
- is a part of margarine, mayonnaise, confectionery and bakery products and other types of products.
- Useful vitamins and microelements remain, which help prevent diseases of the liver and gastrointestinal tract.
Fatty acids are also components of the oil - they have a beneficial effect on the body, prevent an increase in cholesterol and are perfectly absorbed.
- long shelf life.